FIRE RATED CLASSES
MADE SIMPLE
Uncomplicating fire-rated door types
When a fire resistant door has been tested, it gets a classification showing the duration in minutes it resists fire for.
Split into different categories, the classifications indicate how the door will prevent the passage of flames, smoke and heat transfer. This is represented as Integrity, Radiation and Insulation performance.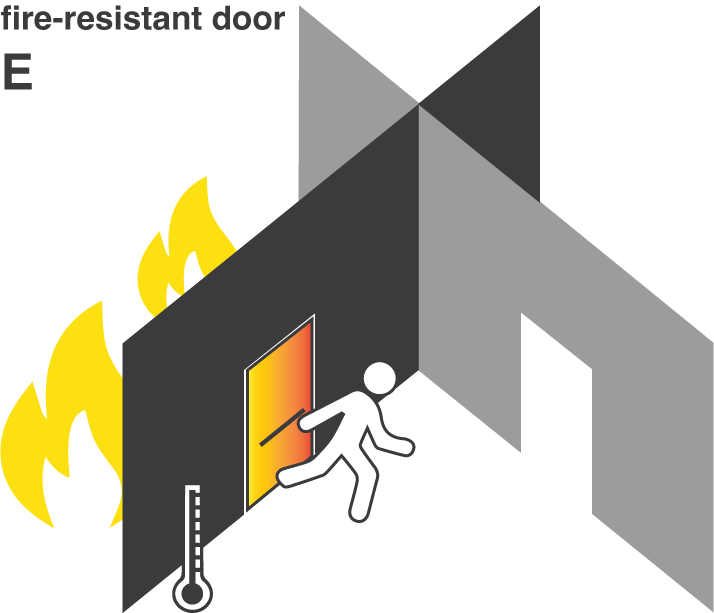 E - INTEGRITY
Fire integrity, denoted by the letter "E" followed by a number, indicates the duration a door can protect and
compartmentalise an area from the direct spread of flames.

Integrity only fire doors are a physical barrier against smoke and fire, providing essential protection for
occupants and property but do not prevent the transfer of heat.


no flames

no smoke

heat reduction

no heat transfer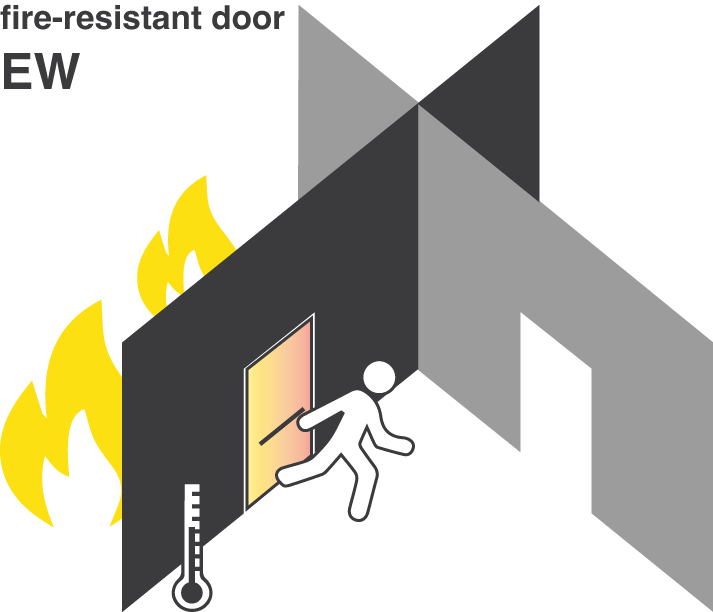 EW - INTEGRITY & RADIATION
Fire doors that achieve the EW classification have the same level of protection as E but, in addition, will also deliver a reduction in the amount of radiant heat transmitted to the protected side.
The term "EW" followed by a number indicates the duration (in minutes) during which the door limits the radiant heat transfer to below 15 kW/m2 at a measured distance from the door.

no flames

no smoke

heat reduction

no heat transfer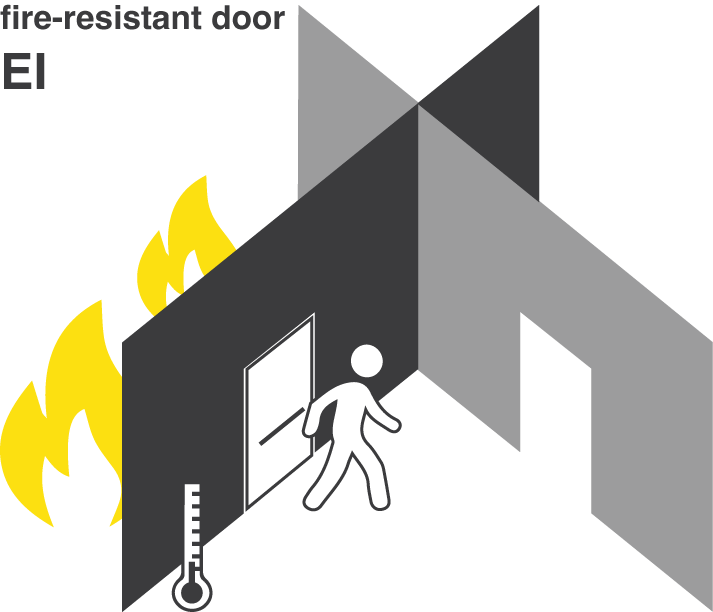 EI - INTEGRITY & INSULATION
Class EI adds Insulation to the door and provides the most complete level of protection. EI provides a robust
barrier against heat and flames, surpassing even the most stringent requirements.
In addition, EI insulation excels at minimising heat transfer through the door. The designation "EI" followed by the duration (in minutes) provides fire resistance and insulation.

no flames

no smoke

heat reduction

no heat transfer
EBD is a trusted expert
As a top-tier manufacturer of bespoke steel doors, EBD offers comprehensive support and solutions for complex projects. Committed to a compliance program of testing and certification, our doors are safe and secure with full traceability.
EBD understands that every project is unique, working closely with all stakeholders from initial specification to project completion and ongoing maintenance, always ensuring hassle-free continuous engagement.
COMPLIANCE & ACCREDITATIONS
All our doors are frequently tested and certified to meet a range of internationally recognised standards, including Certifire, LPCB and CE marking.
NOT FINDING WHAT YOU ARE LOOKING FOR?